7th Virginia Infantry
Regiment Battle Flag, currently located in Museum of the Confederacy Richmond, Virginia.
Historical Overview
The 7th Virginia Regiment originated from the Virginia State Militia of Madison County, and later included men from the surrounding counties: Culpeper and Albermarle. These men were mostly farmers.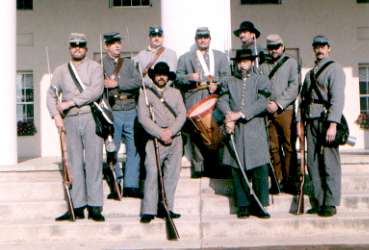 Charter members, 1993
While in Confederate service, the 7th Virginia Infantry Regiment became part of the Army of the Potomac (CS), Army of Northern Virginia, and Department of North Carolina. Brigade commanders were Jubal early, Richard Ewell, A.P. Hill, and James Lawson Kemper. When the war ended, the regiment was part of Terry's Brigade, Pickett's Division, Army of Northern Virginia.
The soldiers of the 7th fought their first battle of the Civil War at Manassas where they distinguished themselves by standing with General "Stonewall" Jackson and held the battle line against the Yankee troops. After that the 7th fought in almost every engagement the Army of Northern Virginia (ANV) faced in the War.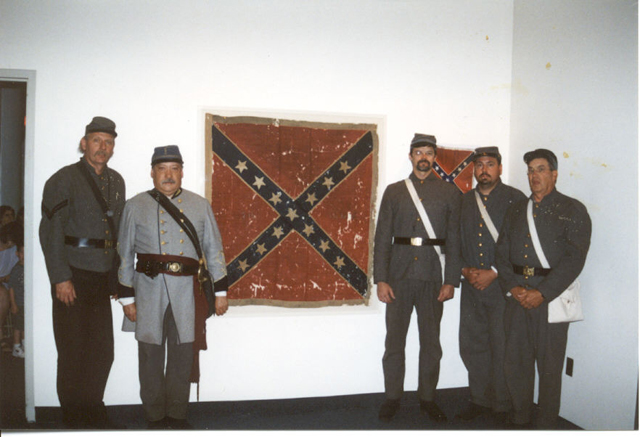 7th Virginia Flag Dedication May 2001
The 7th Virginia at Gettysburg fought with Pickett's all Virginia Division as part of "Kemper's Brigade" and stormed Yankee positions at Cemetery Hill,where they held firm until they were overwhelmed and forced to withdraw.
The 7th continued to fight bravely to the very end, the fought in the final battles of the War including, Clover Hill and Appomattox Court House. Many members of the 7th destroyed their weapons, to keep them out of Yankee hands and refused to surrender.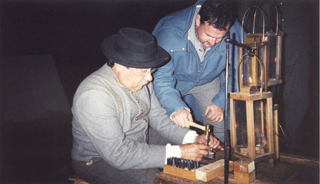 Changing to Company A at Cedar Creek Oct 1999
The 7th Regiment is remembered and honored today by the men who serve again to give glory and distinction to their memory.
Regimental commanding officers included:
Colonel James Lawson Kemper, 1861-62; Colonel Waller Tazewell Patton,
1862-63; Colonel Charles Conway Floweree, 1863-1865.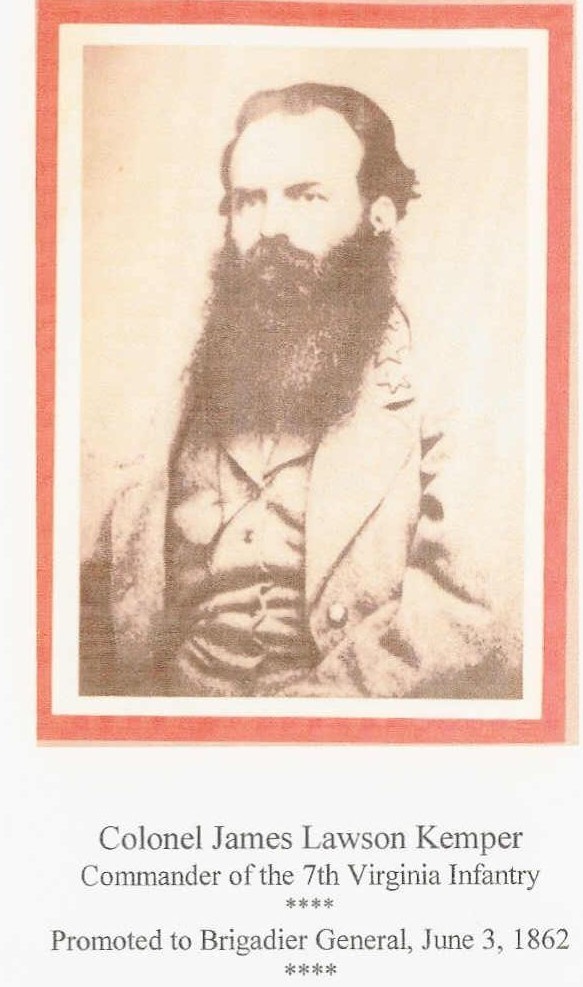 COMPANIES:
A - "Richardson Guards" - Madison County
B - "Washington Grays" - Rappahannock County
C - "Capt. John Porter's Co." - Culpeper County
D - "Giles Volunteers" - Giles County
E - "Hazelwood Volunteers - Culpeper County
F - "Capt. Francis McMullen's Co." - McMullan's County
G - "Rappahannock Guard" - Rappahannock County
H - "Washington Volunteers" - Washington City, DC, & MD
I - "Holcombe Guard" - Albemarle County
K - "Madison Grays" - Madison County
CAMPAIGNS AND BATTLES DURING THE WAR
The 7th Virginia Infantry Regiment had an illustrious history and served in
many bloody campaigns throughout the war.
July 18, 1861 Blackburns Ford, near Manassas
July 16-22, 1861 Battle of First Manassas
April/May, 1862 Yorktown and Williamsburg. Rear guard for McGruder's retreat.
May 31, 1862 Battle of Seven Pines
June25-July1, 1862 Seven Days Battles, Mechanicsville, Gaines Mill, Frazier's
Farm
August 30, 1862 Second Manassas
Sept. 14-17, 1862 Sharpsburg Campaign
Dec. 12-15, 1862 Fredericksburg
June/July 1863 Gettysburg
May, 1864 Drewry's Bluff (Fort Darling), Bermuda Hundred
June, 1864 Cold Harbor and actions around Petersburg/Richmond
July, 1864-Mar.,1865 Various engagements around and siege of Petersburg
April 1, 1865 Five Forks
April 6, 1865 Saylor's Creek (Most of remaining regiment captured.)
April 9, 1865 Final battle and surrender at Appomattox Court House. (The regiment surrendered 22 men. Co. A had two Privates remaining.)
STATISTICS
Of 1284 men who served in the regiment throughout the war, the casualties were:
Death by disease 125
Death by wounds 135
Desertions 130
Total battle wounds 717
Total captured 336
(All historical information used was furnished by Harold R. Woodward, Jr. in his book "For Home and Honor" and was used with his kind permission.)