The Richardson Guards History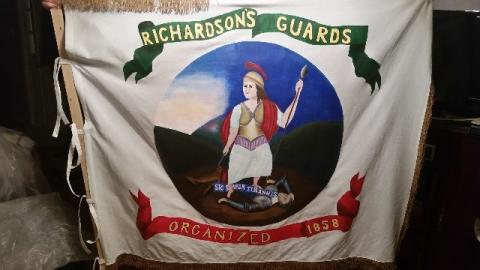 A Brief History of the Richardson Guards
Company A of the 7th Virginia Infantry was originally activated in service by the State of Virginia from August 1858 as a Virginia Militia Company. This company was comprised of men and residents from Madison County. The name, "The Richardson Guards", comes from General William Richardson, Adjutant General of Virginia. In October 1859, the company was ordered by Virginia Governor John Letcher to Charleston, Virginia (now Charlestown, West Virginia) for guard duty during the trials and hangings of John Brown and his accomplices. The unit witnessed the execution of Cooke, Copprice, Green, and Copeland. Following Virginia Secession in April of 1861, the Richardson Guards eventually mustered into Confederate service on July 1 1861 as part of the 7th Virginia Infantry Regiment. The militia company was re-designated Company A of the 7th Virginia. James Lawson Kemper of Madison County became the first commander of the regiment.
Like most State Militia units, the Richardson Guards were outfitted with a uniform which was very similar to the standard US Army uniform at the time. One major difference was that the frock coat buttons were Virginia State Seal buttons. Similarly, the belt buckles were either contained a Virginia State Seal or were blank. The accoutrement straps may have also been made of cotton webbing, instead of leather.
The 7th Virginia Infantry Regiment was formed during the months of April, May, and June of 1861. Under the authority of Governor Letcher and directed by Major General Robert E Lee, volunteers were mustered from throughout Virginia.
The State of Virginia did not secede from the Union until April 17th, directly after Governor Letcher received a telegram from US Secretary Simon Cameron on April 15th. This telegram instructed Virginia to raise 2400 men from State Militia to serve in the US Army and suppress insurrection. Letcher refused the order, citing the Constitution and the Act of 1795, and then he reconvened the Virginia Secession Convention. This convention votes on April 17th to secede by a majority vote, establishing the Virginia Ordinance of Secession.
For equipment and uniforms, each company of the 7th Virginia initially were outfitted by their respective Counties. Because of the Richardson Guards activation, Company A would already be equipped with sufficient uniforms. For other companies, their uniforms may have varied. At the battle of First Manassas, the 7th VA and Company A would be wearing their provided uniforms. Like numerous other units, Company A was wearing predominately blue uniforms, very similar to that of the Union forces.
New uniforms for Company A and the 7th Virginia would not be issued until approximately November 1861. This occurred following the Confederate Military's adoption of the grey uniform standard.