7th Virginia Today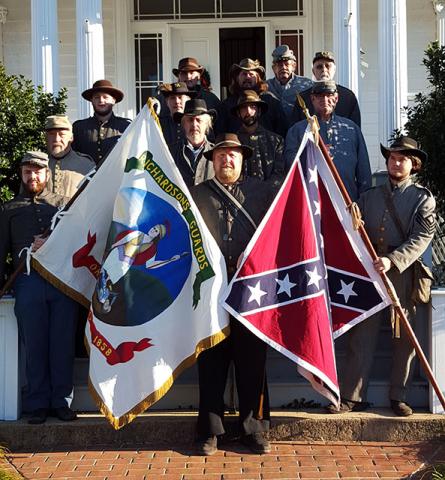 Today the reenacting unit, 7th Virginia Infantry Company A, remains an active unit at events, reenactments, and living histories. The primary task of the members is to retell the story of the Company A and the 7th VA throughout the war from 1861-1865. The 7th Virginia Infantry is remembered and honored by the men who serve again to give glory and distinction to their memory.
The unit was first established in 1993 as Company C with nine original members. In October 1999, the members voted to change the unit to "Company A" from Madison County.
The unit's first captain was Bill Graham. In late 2011 Bill Graham was promoted to Major to serve on 3rd ANV staff for 2012. Steve Hensley, one of the original charter members, was elected the next unit Captain. In late 2017, Steve Hensley was promoted to Major on 3rd ANV staff for 2018. Since 2018, Robert Yowell has been elected the next unit Captain.
Each year, the members meet for the Annual Meeting to determine events and officers for each subsequent year. All company Officers and NCOs are elected on an annual basis by all voting members of the company. The number of positions are based on the size of the company. At a minimum, the company elects a Captain and 1st Sergeant.
The reenacting unit frequently participates in battle reenactments, living histories and ceremonies throughout each year. At the Annual Meeting, events are voted on by all voting members to determine whether the company attends.
2020 Staff:
Captain Robert Yowell
1st Sergeant Trevor Paradis
1st Corporal Preston Clatterbuck
Treasurer Bill Graham
Quartermaster David Yowell
Below is a slideshow of pictures featuring members of the 7th VA since 1993: